Following a bit of an empty competitive year last year thanks to a few injuries (plus turning 40!), I decided to dip my toe back in the water and enter some sprints, the first of which was the Southport Tri . As a broken old rugby player, I'm not a natural when it comes to any sort of endurance sport and not a mountain goat by any stretch, so the short distance and flat coastal course seemed like the ideal mix for my skill(?!) set.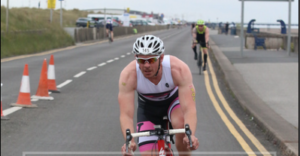 As a new Viceroy this year I was looking forward to the chance of racing in my new pink tri suit, tinged with a bit of apprehension that the northerners wouldn't  take kindly to the colour scheme and would rough me up for it, but never show weakness and all that.
So the race…I rocked up at the standard 6am and it was freezing with a strong coastal gale blowing about and the marine lake was looking grey and cold, a far cry away from lovely Shepperton open water. Got in the water and it was as bad as it looked and managed to take on a couple of lung-fulls of the brine and goose poo soup that was the lake in the opening few metres through getting kicked around, but quickly got into a routine and swam pretty much on training pace which I was happy with having only done one open water swim in my ageing wetsuit this year.
Onto the bike which is always my best part and the nice calm conditions from my prior day spin up were replaced with a head wind that hit from every direction, but still managed to spit out a steady stream of people who had swum faster than me and was still feeling fresh going into the run.I was still carrying a calf injury going into the race that despite having Steve Hobson jab me with needles and make my cry by smashing it to pieces with his horrible thumbs still wasn't up to going full gas for 5k, so I was just going to plod round. But with a line of people in front of me I find it impossible not to chase them down so was hitting pb pace for the first km and feeling great but sensibility took over, I sucked up my ego and did a run walk for the rest of it and finished feeling fresh but with my calf intact.
All in all a decent return to competing, not as fast as I wanted but I live to fight another day and am looking forward to having a crack at Redcar next month.
Rog