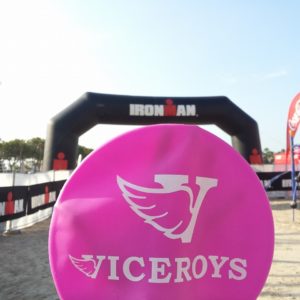 Race report – 21st May 2017 – Barcelona 70.3
So, background – I've done a few Marathons, a few IMs and a few HIMs so I can't be classed as a newbie to Tri's.
Barcelona is a hilly course, if you imagine the profile as a little triangle either side of a larger triangle you get the idea with that in mind I was aiming for 35mins for the swim, whatever the bike gave me and 1:37 for the run.  Again given the course profile I decided on my lighter Road bike (Giant TCR) than my heavier 'better bike' (road bike with aero bars – Felt AR1).  I thought with that profile there'd be little time on the aero bars and besides I feel more comfortable descending on my Giant.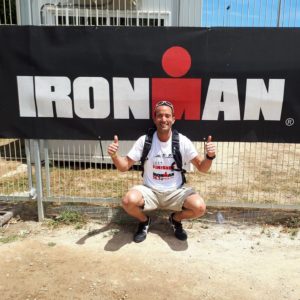 I arrived Friday for Sunday's race and it was WINDY, fortunately by the time Sunday morning came around it has subsided somewhat.  Actually before I get into the race a quick mention of the race briefing, where I bumped into and got a selfie with non other than Jan Frodeno, I was very pleased with that and also with Paul Kaye the announcer 🙂 – doubly pleased
Back to race morning:-  .. bumped into Paul Kaye again 🙂 in transition.  All was well, bike where I left it, checked it was in the right gear, water bottles on etc etc.
I placed myself in the 30 min wave (I can't seem to help myself – I see all these people going off and I think.. OOoo must get going) .. anyway, rolling start and off we go – I actually felt quite good, I  tried to find some feet but for the whole race I couldn't latch onto anyone, the course was swim out a couple of hundred then turn west parallel to the shore for about 750, then round a couple of buoys before heading east back to the start.  Going out was fine but coming back, with the sun in your eyes – I couldn't sight for toffee so just kept following the masses, ended up out of the water in 35min bang on 🙂
Into transition ,quick ish change then out to get my bike.. bumped into Paul Kaye again !! my strategy for the bike was to take it as easy as possible – there were 3 climbs, the little, the larger and the little again.  I tried desperately to ignore everyone streaming past me on the first climb and I just tried to take it easy.  This worked reasonably well and the best thing for me about going up hills is you get to come down the other side – I LOVE descending, with smooth roads and my confidence in tact I was able to make up some good time and good positions – However I completely over cooked it (exertion wise) on the descent but I had FUN  :).  There seemed to be quite a few fallers on both the decent  and one stretch of straight flat road – I figured the guy just lost concentration. The bike course passed without incident, although once again I was slightly annoyed at a particular group that I kept yo-yo'ing between that
rode as a peleton – just blatant drafting, I know IM do their best to enforce the rules but I wish those athletes had more moral fibre, the bike was 2:59 – given the terrain – I'll take that.
Into transition, no dramas, shoes on and out for the run.  Now when I run off the bike my first split, even when I try to go slow is  ALWAYS fast (relatively) sorry for the next techy bit.. my garmin beeps every half mile so I work in half mile split.  I knew If I wanted a 1:37
I had to be hitting 7:30s so 3:45 on my watch, first split was down in the 20's so I thought 'good' – back offI took water at EVERY water stop – it was getting hot out there – so there I am plodding along , just out of T2 and I hear Paul Kaye announcing Frodo coming into the finish arena, he's a whole half marathon ahead of me.. guess that's why he's double IM world champion and IM world record holder !!
Anyway I continue to plod on up and down the beach.. getting slower and slower, the 3:20s turn in to  3:30s which I
hold for a while then the 3:40's come looming, I carded a 4′:something but justify that with 'walking the water stop' but battling on – it was hard I'll admit it but I dragged my sorry behind along the magic carpet where – you guessed it – I bumped into Paul Kaye, for a run time of 1:40 something for a total time
of 5:23 something and you know what I was chuffed with that. with such a hilly bike and a, for me, tough run 5:23 is nothing to be ashamed of.
I did the usual recovery tent tried to eat their rice but it was NASTY, home, showered, pizza, beer and then something that I have enjoyed doing at HIM's of late is to go back for the last half hour or so and applaud those guys n girls who've been out there for 8 hours !! I kinda felt good about that and yes you guessed it.. bumped into Paul Kaye AGAIN.
My schedule was to fly home on Sunday evening so by the time things were all wrapped up it was time to hit the highway and go catch a plane home for work on Monday
On reflection I really enjoyed Barcelona HIM, I got to meet Frodo, bumped into PK 4 times and put in a solid performance 51 in my AG and 351 overall.  It also felt good to be in pink representing the club.  I'm somewhat of a silent member and find it so difficult to get to the training events despite there being more options than you can chuck a stick at – I am trying to get to 1 !!
I have IM Austria in 6 weeks time and really need to knuckle down with the training.. today was tough and it was only a half !!
Neil Thomson