The 'mini beast from the east' meant that the original date for this duathlon was postponed from March to April. And what a good decision that turned out to be as there was a beautiful sunrise and little wind on race morning – highly unusual for Dorney lake!
Plenty of decent human and bike machines in transition so the competition did look a little hot. Decided to line up at the start line in the famous pink and black colours of Viceroys to mix it with all the whippets. Off the gun went and cracked off a 3:39 first km to get clear of the main pack. Knew I would pay for that later and it began to tell in the final 2 kms where I lost a few places – came into T1 in 9th or 10th place.
Hit the bike course and loved every second. Pancake flat, 4 laps of 5km with only 2 bends to negotiate meant that you could hold race position virtually all the way. Glad I had the TT bike as that would have been a significant advantage. Slight tailwind on back straight meant I was hitting and holding 42kph in the sunshine so doesn't get much better than that. Also managed fastest bike split of the day in a sub-30 min which I was well happy with.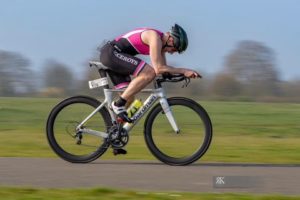 Into T2 and out into 2nd run of 5km. Started to motor and felt good. After 1km I saw the leader and then 2 other competitors behind him. So I was in 4th and as I hit the turn point, could see 5th was in his 20s and had me in his sights! Come on son, pump the legs and could hear Mr Yeoman yelling "cadence, cadence, cadence" from Walton athletics track. Flicked on the after burners and coaxed the last drop of petrol for the final 1km and held off the 5th placed youth.
So crossed the line 4th overall (worst position!!) and 2nd in AG in 1:09. Would have taken that at the start of the race most definitely.
Would recommend to others as well organised and traffic free roads mean a great race experience!