About a month ago I decided to sign up for a half ironman – as you do, having only done Sprint and Olympic distances! There was a bit of peer pressure involved (no names – Andrea!!) plus I'd trained for the Aquabike World Champs, so it was just the run I had to master.
Run training didn't quite go according to plan. I was up to 9k following a break of about 2 months after falling off my bike. I'd pulled the operation site in my ankle that was only fixed in February so it needed a rest! Cycle and swim training continued though.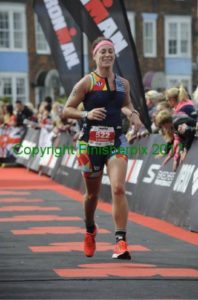 In the morning I met so many club mates – Andrea Whelband, Steve Hobson, Simon Tack, Debbie Davies to name a few. It was great to chat and push the nerves away.
An Ironman event is very different to any I've experienced before. I was apprehensive to say the least about the mass start of 2000 people, however on race day you seeded yourself and 5 people went every 6 seconds. I went with Debbie and my memory is of us both going 'ouch ouch ouch' with every step over the stones to the water!
The sea was really choppy, I expected to get beyond the waves and for it to be smoother, but there was no pattern to the chop which meant a few mouthfuls of water and a constant fight. Either the current or the wind kept pushing me off course too and it took me a while to realise because the waves meant I couldn't see the buoys a lot of the time.
I was surprised at how long the swim took, but my plan was just to enjoy the race and see if I liked the distance, so I didn't worry. It was quite nice not feeling the pressure of a qualifier or championship event which had begun to take the shine off my love of triathlon.
On the bike it was freezing. Apparently the course was flat – I guess it was if you also consider the Surrey Hills flat! Some gritty lanes and many hills later I was in T2 about to face my nemesis – the run. Anyone that knows me knows how much I dislike running! On top of that I had blue toes and numb feet because I was so cold.  Still, I hadn't pushed the bike so I hopefully had something for the run.
It took about 5k for my feet to come back to life, and as they did so they burned, which made running quite hard. The crowd was absolutely amazing, on a par, if not better, than a world championship event. My name was on my race number and everyone was so supportive. People had amusing placards like 'high five here for a power up'. I had given myself permission to walk through every aid station, whether I needed to or not. The first 12k was ok, but having run nearly 2 laps, I knew what was coming, there was no new scenery and I started to struggle. This was alleviated by finding Neil in Viceroys kit. I'd never met him before, but we chatted and kept spirits high. I waved him off to the finish chute and started my final lap. My legs hated me for only running 9k in the lead up. The last 4K were very painful and it was only knowing I was nearly there that kept me going.
The finish chute was pretty special, plus it meant it was over! It was probably only the next day that I decided I had enjoyed it. It was a challenge and test of mental strength that's for sure.
I'd do another 🙂
Lara Clay