So when they say anything is possible, believe!
I had a very devastating training year. When I was at the peak of my training season, I had my bike crash and everything went pretty bad.  Couldn't train for a whole month, had a terrible race in Staffordshire and lost it all.  But still didn't give up , and I'm pleased. I was very upset as it was meant to be my strongest year with 6 hours targets.
So after that race I'd done minimal training and went to Lanzarote as I always do.
I was very tense about it as only two weeks prior to the race there was a change on the bike route.
Because I've done twice I knew what to expect and had a plan, which again, didn't work. It was like a conspiracy.  All I had to do was wake up on race day and face it, and give everything I could.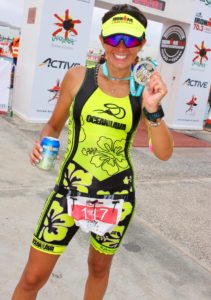 The first two days before the race I'd concentrated in preparing myself.
Cold dips, massages, light training, etc. The day before I'd made sure my nutrition was spot on, and luckily, I'd listened to some of the pros I'd met and for a change didn't have any pasta/refined/fibre. So I slept very well and woke up to race morning.
I was very relaxed for a change as I knew in my head that at that point no miracle couldn't change my fitness level.
Swim was very nice this time as I kept my pace and 5 of us swam together in a hive which made it really good. Not my fastest but less fatigued. It worked.
I really took my time at transition as I always do it quite fast but than so out of breath that it would take me time to catch my breath. I went very slow into the tent and changed myself slowly.
Off I went on the bike with no clue on what I was going to face.
Turned out to be my best ride ever! My nutrition on the bike was so perfect, I didn't have a single stop at any station which is something very new for me. I've always made use of every station to stretch and eat. But not this time. I was strong and I went for it full gas.  I'd ate and drunk everything I was supposed to. Spot on. Only one biggest regret: Socks! Never again.
My run started very smooth and on a good comfortable pace.
I reached Bijan at 4km and I had to slow down and run together with him, to make sure he made the first lap. He was already in pain but did it very strong all the way back to La Santa, and then I had to go. Second lap was cooking! Very hot and no breeze.
Again a second regret: not wearing my compression socks. I felt that my leg was fatiguing very quick. Maybe because I've pushed hard on bike or really a combination of things.  Again my nutrition from the bike was still there and all I had on the run was sports drinks from aid station, small sips but nothing else.  No nasty gels or anything and for the first time I didn't have stitch.
As my broken leg always hurts, last lap was hell but again you just go and keep going.
Then I finished, so happy to be faster than last year considering my training was rubbish.Had my drink and a massage.
Until I've got my printed result for the shock of my life.
3rd on age group! Really? I burst into tears and just couldn't believe!
That made me so strong mentally as I was thinking: wow what if I'd trained?!?
It was a awesome experience which brings me now a total different perspective on what I can achieve and will. For sure was the best day of my life and so much to look forward now. The feeling of the podium gave me strength to believe and I can wait for what's coming my way.  Next year will be big and I'm dreaming high! There is no secret, just consistency.  I'm over the moon!
Lilly Morgado