ETU European Middle Distance Championships, Herning, Denmark – Saturday 10th June 2017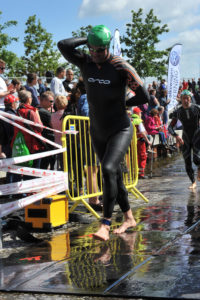 I stepped up to middle distance (70.3) at the end of last season and qualified for GBR AG team on the back of a strong result at Vitruvian (great race by the way – do it this year if you can!). This race has therefore been my focus across the winter and into the start of this season. I'd already raced the distance this season at Grafman a couple of weeks earlier and had done okay but still went into the championships feeling a little ill prepared and 'race light'.
Anyway, excuses over!
Herning is nothing to write home about! However, on race day it was incredible. The whole town simply went triathlon crazy. The 1.9km swim was in a nearby lake which meant an awkward split transition. Great setting though. Water was cold so I was pleased that I'd taken the neoprene swim hat just in case. As always, the first 200m was a washing machine but soon and inevitably enough, we got away from the bunch a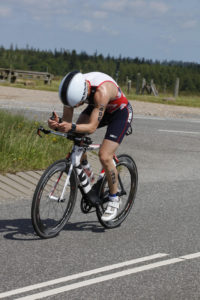 nd by the time we'd cleared the first buoy, we were swimming in a nice arrow head and in clear water. We caught the stragglers from the earlier (and younger wave) by about the halfway point and then had to cope with swimming through slow traffic all the way to the end. Put in a good swim split, exiting 12th in the wave.
T1 was slow -hands were so numb from 30 mins in the cold water that I couldn't get out of my wetsuit! Anyway, managed to get away and onto the bike for 90km through the Danish countryside. Beautiful day for a ride! Velvet smooth roads and a rolling profile only hampered by a bloomin' headwind whichever way we seemed to be heading! It took me about 60km to realise why there were a lot of wind turbines!! Worked hard on the bike to hit close to 2 hours 30 mins but fell short on my target time just down to lack of power into the wind.
Came through T2 knowing that I'd have to run a quick half marathon to stand a chance of a reasonable result. The heat was now building and athletes already on the course were showing signs of struggling. The run course was 4 x 5km laps with the course a mix between a technical town centre section (with loads of great support) and then a long out and back stretch. My first two laps were on pace for my 1 hour 30 min target but the heat and blisters were starting to tell and the 3rd and 4th laps fell away to leave me with a disappointing 1 hour 37 min run time. I came 27th overall in my AG and 8th in the GB AG team. Not a complete disaster but not as good as I'm capable of. I'll rest and recover and then start building for Worlds qualification races over the standard distance in the coming weeks.