I guess an Ironman has been on my 'list' since I watched my dad complete his first 70.3, when I was about 8 years old.  So quite why it took me until August 2013 to purchase my first bike and give triathlon a bash, I'm not really sure….. Preparation for the big day started back in September 2013 when I contacted Coach Yeoman and explained my ambition – instead of laughing, Mark promptly wrote me up a killer training programme and the winter went by in a blur of swim, bike, run, repeat.   Massive thank you to David Hegarty from the club in particular for dragging me round on the bike in the early days  – it wasn't pretty and I very much appreciate your patience
Ironman France came around fast and unfortunately due to some family illnesses close to d-day, my 'support crew' was unable to make it out.   That's ok I thought, it's all up to me on the day anyway, so sad but determined, I managed to navigate the French taxi strike on arrival (no airport transfer – bike box on a public bus not fun),  build my bike and deal with TWO flat tyres just before racking time.  I met some amazing athletes out there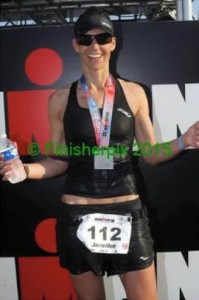 who were super kind and everyone seemed pretty willing to offer advice and help out if required.On Sunday 28th June I woke up at 3.45am and started preparing for what was going to be one of the biggest tests of my mental and physical endurance to date….. I was excited and ready but also more than a little terrified!   I got down to the start early and pumped up my tyres – due to the heat, there were tubes blowing up left right and centre.  I walked down to the beach and stared out at the buoys…….I strained my eyes to try and see the 1km marker straight out from the start and then went for a quick warm up dip to try and calm the nerves.
I got into the 1hr 14min gates on the beach, where I felt I'd have a realistic chance of coming out the water and was pleased to see Gary Connor from the club lining up in the same section.  The pro's went off at 6.25am and then 5 minutes later the calm waters turned into white water rapids as 2700 swimmers charged forward and out towards the first turn…MENTAL!   I got a good start position and just kept swimming, I was too scared to slow down for fear of being swum over by the hoards coming behind…. I tried to get on some feet and hips wherever possible, but for the first 800m it was pure carnage…. I was relatively polite until the 3rd kick to the goggles and then it was all on!  I didn't know it at the time, but I came out of the water at 1hr9mins and was encouraged to see a fair amount of bikes still racked up and waiting.
I did a full on change in transition (which took nearly 7 minutes) but set off on the bike feeling good in my super padded Viceroys shorts.  I knew the first test was a 12% climb at about 20km and then a 20km climb from 50 – 70kms…. so I just kept splitting the ride up into sections in my mind and ticking them off as I went…. a couple of times I took a moment to look out at the stunning view and with one stop for the portaloo I was soon winding my way back into Nice for T2.  I was totally shocked to have done a 6hr37min split for my bike as this is definitely my weakest area and it was a tough bike….. into transition and another costume change for the run (and another 6.5 mins to the time).
The most amazing moment was coming into T2 and seeing Ross (my partner) standing at the fence beside where I was to rack my bike…. he  had managed to fly out so that he could at least see the run and finish – such an amazing boost to get me through the last leg!!  I set off feeling a little excited and on checking my watch was running at just over 4min kms for the first couple of kms… too fast and definitely not sustainable in the heat.  I steadied myself and settled in for the long haul.
Laps 2 and 3 of the run were tough, it was hot, I was vomiting (and had 3 loo stops) and bits start to hurt a little at this point, but then all of a sudden I realise I'm on lap 4 and only 10kms from achieving my goal….. I'm not sure how it happens but the moment I saw that finishing shute, I swear I could have been floating…… it was the most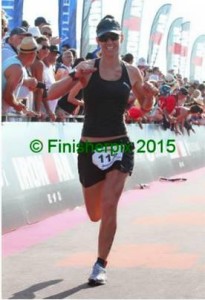 incredible feeling to run down that carpet and hear the words '….. YOU ARE AN IRONMAN…..'  12hrs 18mins and a very, very big smile!
A maccy D's went down a treat after finishing, closely followed by a pizza and it was brilliant to catch up with Calvin Woods and Gary Connor the following day for a much deserved drink!  An amazing adventure and I'm definitely proof that anyone can do it if you set your mind to it.
Looking forward to getting back into training and onto the next challenge!!