Three Viceroys entered the Revolution (Two days, 197 Miles, 9411ft of climbing) and were placed respectively: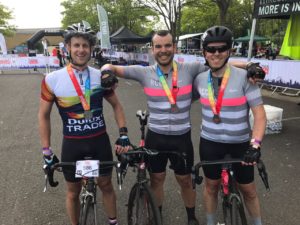 David S – 31st 12:58:44
Andy T  – 50th 13:28:58
Seb P – 51st 13:29:02
That would be out of circa 1350 riders.
The Saturday start was nauseously early with a registration at 6:00 in Ponders End somewhere north of Tottenham.  Andy T and I Rolled out at 7:00 in the first wave, where the drizzle started damping our initial caffeine based enthusiasm.  David resplendent in borderline world championship striped Dulux Colours was on corporate propaganda duty escorting an ice cream truck across Tower Bridge.  A dreary drag through North London gradually gave way to Shoreditch, then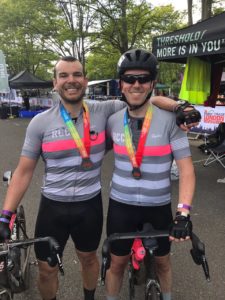 Tower Bridge, and then the first climb, College Hill in Dulwich to the Crystal Palace. This warmed up the legs nicely for what was to come.  A steady grind up to the North Downs in a seemingly endless barrage of false flats. Then the ride opened up into rolling countryside as we passed Oxted and fought through the headwind, past Gatwick to a well earned lunch in Ewhurst.  Sandwiches and coffee dispatched the climbs started in earnest with Pitch rolling into Combe Lane, with a nervy rain soaked descent of Staples.  Then rolling into the overnight stop in Windsor Race Course.